Look Happy with PhotoDiva Smile Photo Editor
Got distracted taking a selfie and came out gloomy? An emotionless or, even worse, a frowning face turns people off, making the number of your followers go down. But it is a piece of cake to add a smile to a photo if you have the right software! Make your beautiful face glow with a smile in a few clicks with PhotoDiva photo editor.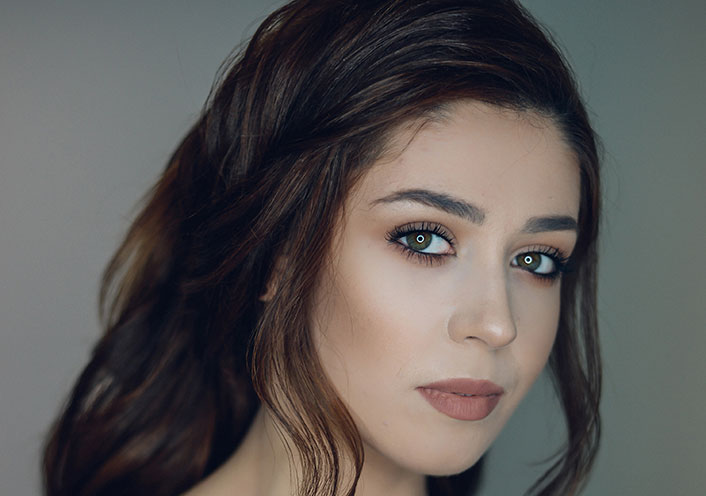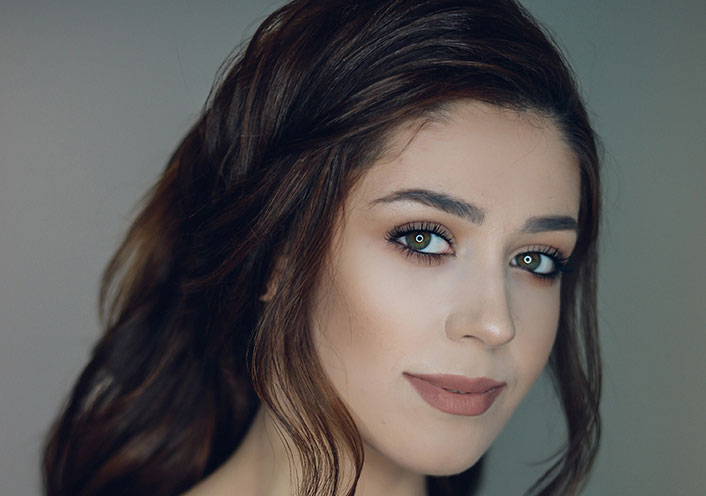 Want to stun your friends with a smiley face on a photo? PhotoDiva's special filter allows you to turn a frown into an authentic-looking smile as if by magic. The AI technology inside the portrait editor simplifies and speeds up the editing process significantly, making it almost automatic. Just apply the filter and enjoy the result! Above all, the software includes filters for changing the size, height, and width of your lips. It has never been so easy to make your lips look more expressive and attractive. Isn't it the photo editor you've been looking for? Try and see for yourself! And now let's get to know how to put a smile on a photo in more detail.
How to Add a Smile on a Photo in PhotoDiva
Yes, we are not always in the mood to perform a sincere smile when taking a selfie. However, it is better when people see us smiling on social media. You can solve this problem at home and for free! Here are a few simple steps for you to successfully add a smile on a photo and make it perfect:
Download the free smile editor for pictures. Install the program to your PC by following the instructions of PhotoDiva wizard.
Run PhotoDiva and just drag a photo from a folder to open it.
Switch to the Sculpt tab and find the Lips section on the left-hand sidebar. Under Lips you'll see the Size, Width, Smile and Height sliders.
Add a smile on the photo simply moving the Smile slider to the right as far as you need.
Edit the size, width, and height of your lips if you'd like to, dragging the corresponding sliders. Drag the slider to the right if you need to make your lips bigger and mouth wider or to the left to do vice versa.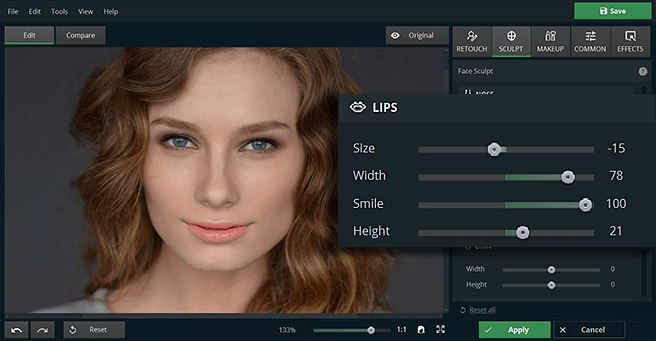 And what about the teeth? We don't always have the time or the money to attend a dentist for a whitening procedure. Use PhotoDiva to make your teeth bleached in a blink of an eye. If you want to add color to your lips, but weren't wearing makeup while taking a photo, the PhotoDiva Lipstick tool is at your service. Highlight your lips with any color you prefer.
You will certainly be pleased with the quality of the filters when experiencing them. Make a dream smile in PhotoDiva free smile photo editor and get ready to receive likes and compliments.
Explore More Photo Editing Tools to Make a Perfect Picture
The editing possibilities of the program are not limited to smile adding and teeth whitening. There is a rich photo editing toolset for your convenience. You can use PhotoDiva to change the size and posture of your nose, try a new eye color, restore damaged pictures, make faded colors bright with Lighting & Color filters to enliven your picture, and many more! Watch the video below, and you see it all with your own eyes.
Prefer to edit photos on a smartphone? Then Facetune2 will suit you as an alternative photo editor.
So, from now on you don't need to take dozens of photos to get one with a lovely smile. Get PhotoDiva portrait editor for free to save your time and add the smile you want. And don't forget to add a smile to your everyday life!