Change Skin Tone in Photos to the One You Like
Discovered that your skin tone is uneven in the photo? Or the pic doesn't accurately convey your natural skin color? There is no need for a reshoot. Just fix this issue in post-production. It is not necessary to use complicated programs like Photoshop for that. Just change your skin color in the smart PhotoDiva.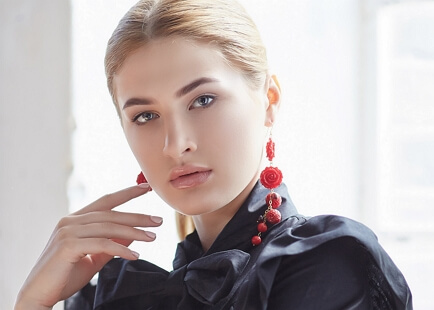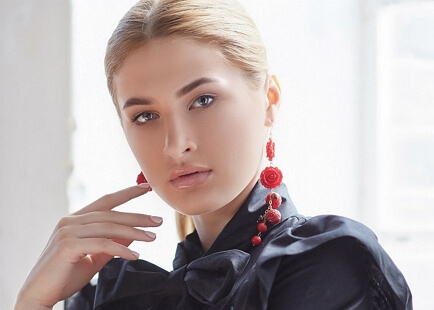 PhotoDiva is a free portrait retoucher that requires no previous experience for you to master. It is powered by an AI engine, which recognizes facial features. This makes retouching portraits super fast and easy. You will see that for yourself in a moment. Later on, we will introduce you to a few alternative skin tone changers you will like. So once you are through with this article, you will surely have a reliable way to digitally change the color of your skin.
How to Edit Your Skin Tone in Pictures with the AI-Powered PhotoDiva
PhotoDiva will help you achieve the desired skin color, whether you want it darker or lighter. Thanks to artificial intelligence, the program allows you to edit the skin color in your picture in under a minute. Let's go over all the steps in more detail to see the photo editor in action.
Step 1. Install PhotoDiva
To begin with, hit the button below to download the free skin tone editor. Then follow the installation wizard to save PhotoDiva on your PC.

Download Free
Step 2. Import Your Photo
Run the editor. Once you are on its startup screen, click the Open Photo button to import your portrait. Otherwise, drag and drop your picture right into the program.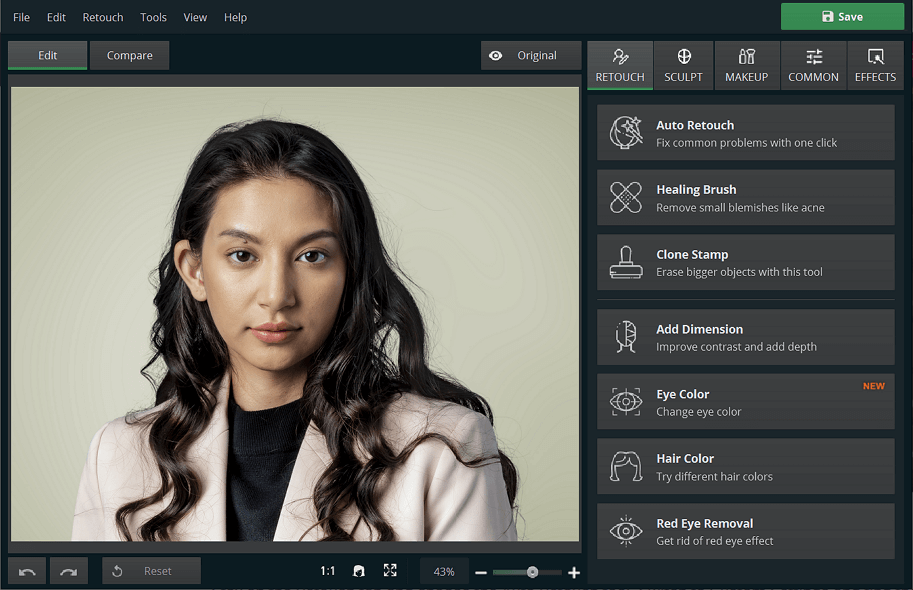 Step 3. Edit the Skin Tone
Stay on the Retouch tab and choose the Auto Retouch tool. Switch to Custom Settings and find the Skin Tone section. Uncheck the Auto box to adjust the skin tone manually. Drag the tone slider to the right to darken your skin tone or to the left for skin lightening. Use the Lighting and Color Balance palette to find the color you want to apply.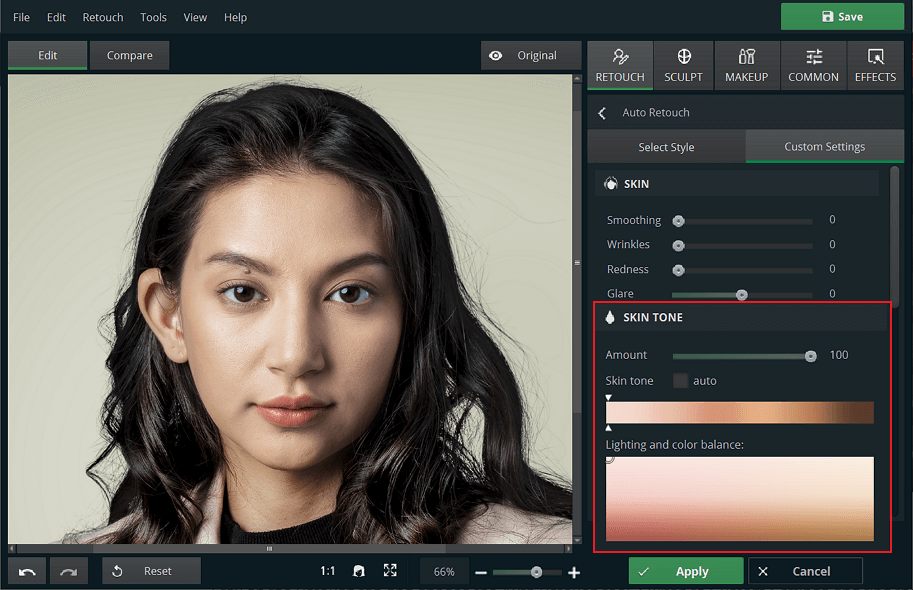 Step 4. Save Your Edited Photo
Achieved the wanted skin tone? Hit the green Apply button to save the changes. Click Original to see the difference between the initial and edited picture. Finally, click Save to export your image to your PC's library.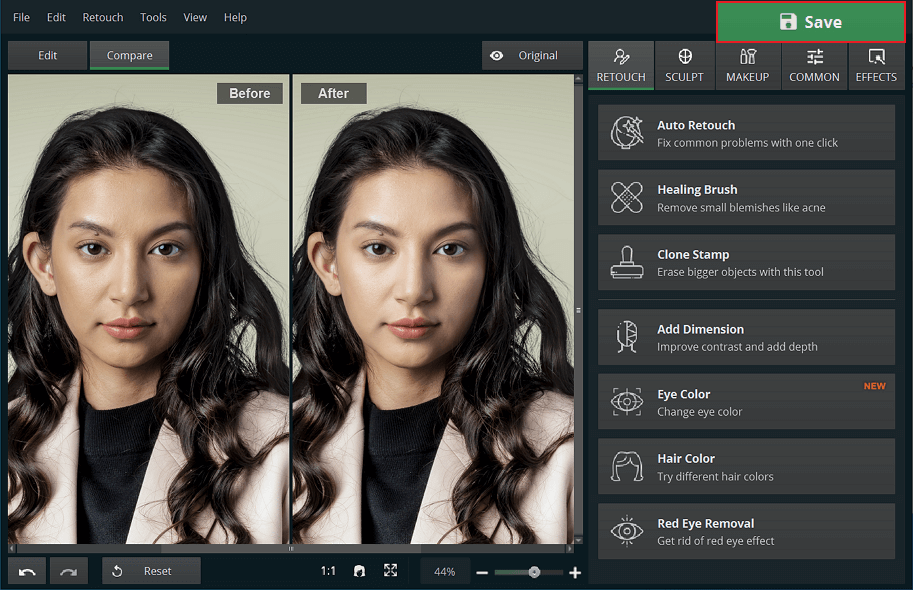 It is undoubtedly easy to retouch images with PhotoDiva. However, this program is much more than a handy skin color editor. It also works perfectly for other retouching tasks and will help you add a smile to a photo, change eye and hair color, whiten the teeth, remove eye bags from a photo, get rid of any skin imperfections, and even add makeup to a photo. PhotoDiva also has powerful face and body sculpt tools, which you can use for things like lip plumping, nose reduction, leg slimming, breast enlargement, etc. Watch the video below to learn more about PhotoDiva's endless capabilities.
As you can see, PhotoDiva is a reliable tool that will never let you down, no matter the retouching situation you are in. Download the editor to get better acquainted with it and start changing the skin tone in your picture.
Alternative Ways to Change Skin Color in Pictures
Want to consider more options? We have picked a few that any user will appreciate. If you have a Mac computer or want a program with unlimited retouching possibilities, try the mighty Adobe Photoshop. Although this editor has a pretty complicated interface, it allows for high-end photo editing. Apart from natural skin tones, you can apply textures and graphic designs to your skin in images.
Want to darken or lighten skin in a picture on the go? Equip yourself with a smartphone skin tone editor. This way, you can quickly apply some retouch and post your photo right away, even while traveling. For Android users, we recommend employing the AirBrush photo editor - a respected app in the field. If your smartphone runs on iOS, go with YouCam Perfect, which is pretty similar to the previous entry.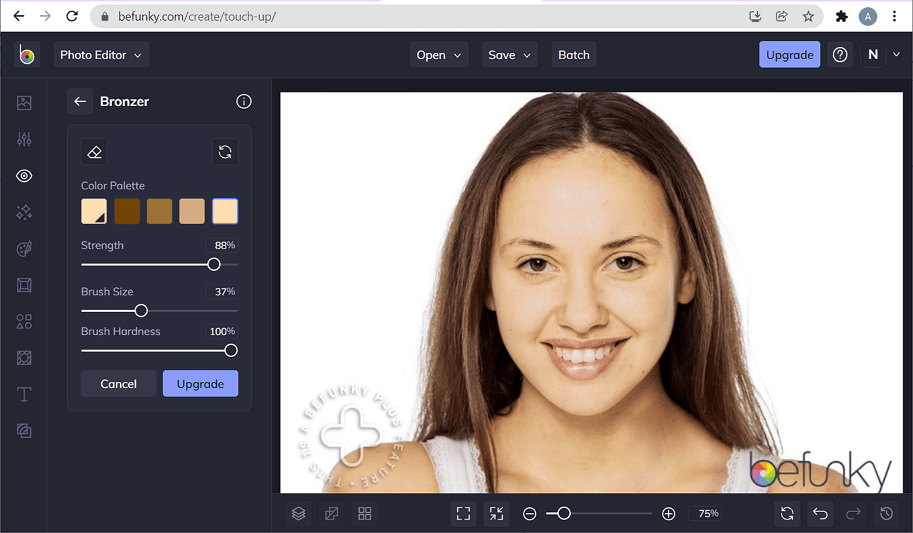 Think it's unreasonable to download extra programs for casual skin color changing? BeFunky is the online editor you will appreciate having at hand. With its easy-to-use brushes and color palettes, you will be able to quickly edit your skin in a pic. However, you would have to get a subscription to BeFunky Plus to use this feature.
Now you know 5 ways for skin tone editing - for newbies, and proficient users, for Mac and Windows computers, online and offline, for iOS and Android smartphones. We hope you have chosen the best photo editor to change skin color according to your needs and preferences. If you are still deciding, we recommend you give the free PhotoDiva a try and experience its powerful features yourself. Either way, we hope this article has helped you.