Make Your Eyebrows Spectacular in Photos
Want to try a trendy brow color or shape? Give this idea some more consideration. Сhasing trends might play a bad joke on you, and you will end up with brows that don't suit you. But there is a way to find the best shape and color before plucking and coloring. Fix your eyebrows digitally with the free PhotoDiva. This user-friendly eyebrow editor will help you to easily sculpt and color your brows or to emphasize their natural shape in a photo. PhotoDiva will also be a lifesaver if you want to post a selfie but feel that your brows don't look their best in it.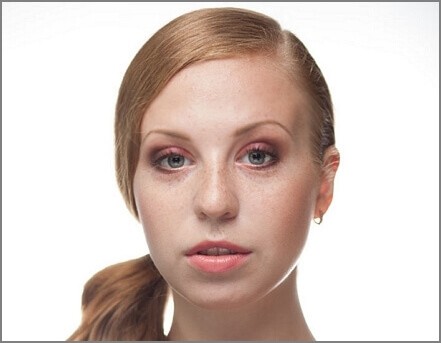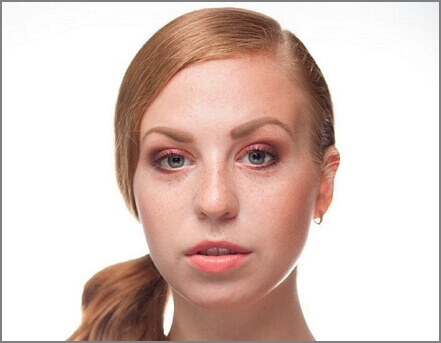 How to Edit Eyebrows in a Photo with PhotoDiva
You need no previous experience in photo retouching if you use PhotoDiva, the free portrait editor. The program is super intuitive in use, so even a newbie can achieve impressive editing results in it. Can't wait to try on new brows with this program? Dive into our detailed guide to get a quick start:
Download and run the eyebrow changer, then upload the photo you want to edit.
For eyebrow shaping, go to the Sculpt tab and pick the Face Sculpt tool. Find the Eyebrows section. The program will detect the brows in your image automatically. Thus, you will be able to adjust the thickness, height, distance, and curve of your brows in a few slider drags.
To change your eyebrow color, switch to the Retouch tab and select the Hair Color tool. Choose a new color, set the size, feather, and opacity of the brush. Stroke over your eyebrows. Adjust the saturation, temperature, and exposure of the color to your liking.
To emphasize your natural brows, pick the Auto Retouch tool on the Retouch tab. Switch to Custom Settings and find the Eyebrows section. Drag the Sharpness and Contrast sliders to enhance your brows.
Applied the perfect shape and color to your brows? Hit Save, and your selfie will be ready for posting.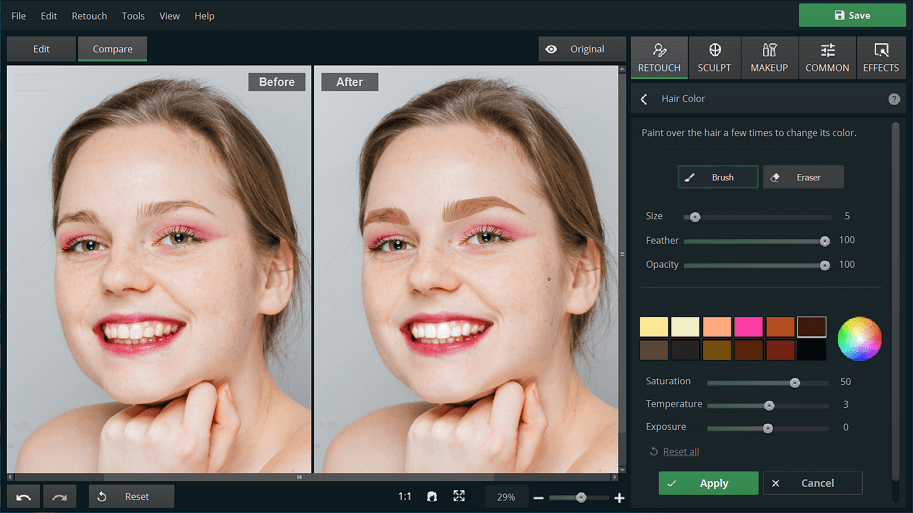 Prefer portrait editing on the go? Enhance your brows with YouCam Makeup, an eyebrow photo editor for iPhone. Get Eyebrow App if you want to retouch portraits with your Android device. Don't want to download extra programs and apps? Try on different eyebrows with PicMonkey, an online portrait editor.
PhotoDiva: More Than Perfect Eyebrows
PhotoDiva is truly helpful in editing brows, but there is much more the program is capable of. It is also a powerful face editor that can smoothen your skin, remove redness, apply makeup, and even sculpt your face. PhotoDiva is powered with an advanced AI, and all the tools are automatic, so the editing process is very easy. The software is also equipped with a library of presets that will help to apply the effect you want in an instant: whiten teeth, add a tan, remove glares, remove eye circles, and more.
Meet PhotoDiva, All-in-One Image Editor
Apart from beautification tools, PhotoDiva has all the essential editing features. With their help, you can color correct, sharpen, crop, rotate your image, blur its background, and even remove people from photos. What's more, the program is equipped with 100+ one-click filters that will add a special vibe to your edited picture. Want to get a better understanding of the program functionality? Watch our quick PhotoDiva video review.