How to Edit Acne Out of Pictures: Quick and Easy Method
Have you had a situation when a pimple popped up on your face right before an important photoshoot? Or is acne the reason you avoid taking and sharing selfies? Although consulting a dermatologist is a wise idea you should definitely consider, we have a quick-fix solution for you. It will be a lifesaver if you need to mask pimples and red spots that are showing in your photos ASAP. No need to clog your pores with tons of foundation cream or avoid taking photos whatsoever. The only thing you require is powerful software and a couple of minutes of your time.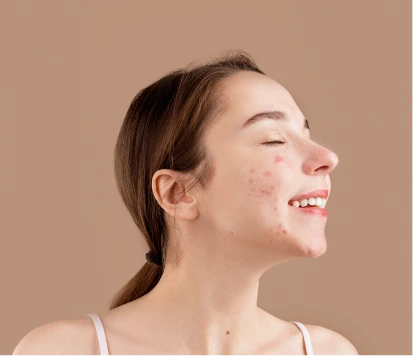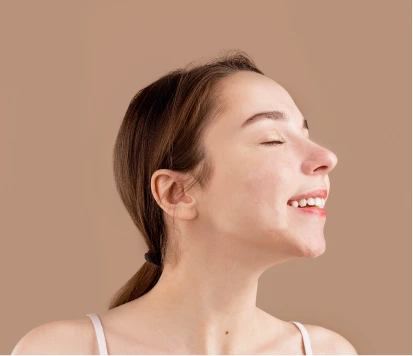 Today, we will show you how to remove acne from photos step-by-step with PhotoDiva. It's a free portrait editor that has AI-run features for retouching your photos. Thanks to its artificial intelligence engine and an extensive collection of presets, you can perform nearly every retouching task with minimum effort - apply natural-looking makeup, stylize your image, swap backgrounds, and more. Also, you'll learn alternative ways to remove pimples from your photo - on your smartphone, Mac, and online. Let's get started!
How to Remove Acne from Photos in 4 steps
PhotoDiva can help you get rid of pimples in a matter of seconds. We're going to use the Healing Brush tool to get the job done. Just a couple of strokes, and your acne is gone. Let's find out more about the process!
Step 1. Download and Run PhotoDiva
The first thing you need to do is download and install PhotoDiva on your PC. Сlick the button below and follow the lead of the installation wizard until you find yourself on the startup screen of the program.

Download Free
Step 2. Open Your Problematic Photo
Drag and drop your image into the editor or click the Open Photo button. Stay on the Retouch tab and proceed to the retouching process.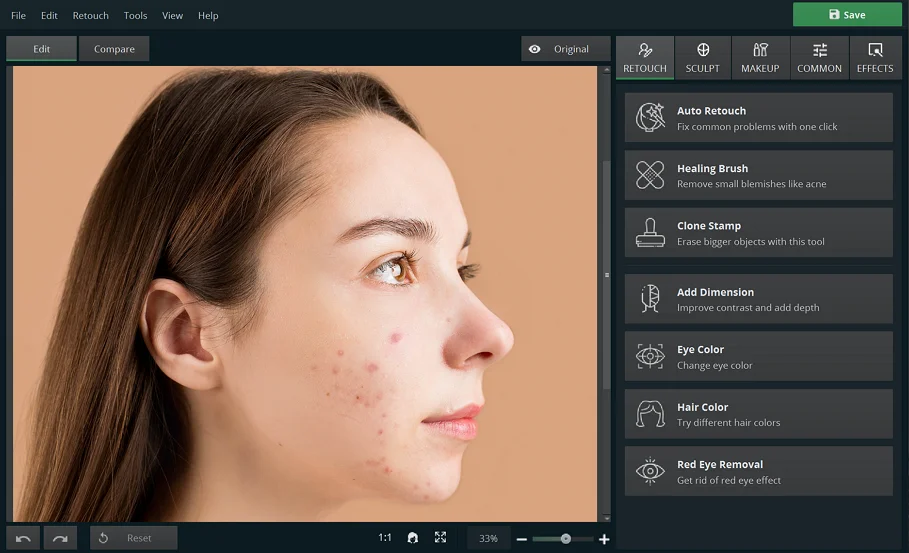 Step 3. Remove Pimples from Your Photo
Pick the Healing Brush tool and adjust its size and feather for a more precise result. Zoom in on your photo for a more thorough job. Mark the pimples, and the software will mask them, considering the surroundings. In just a couple of clicks, the model's skin is smooth! To erase more prominent imperfections like acne, wrinkles, and scars, use the Clone Stamp tool.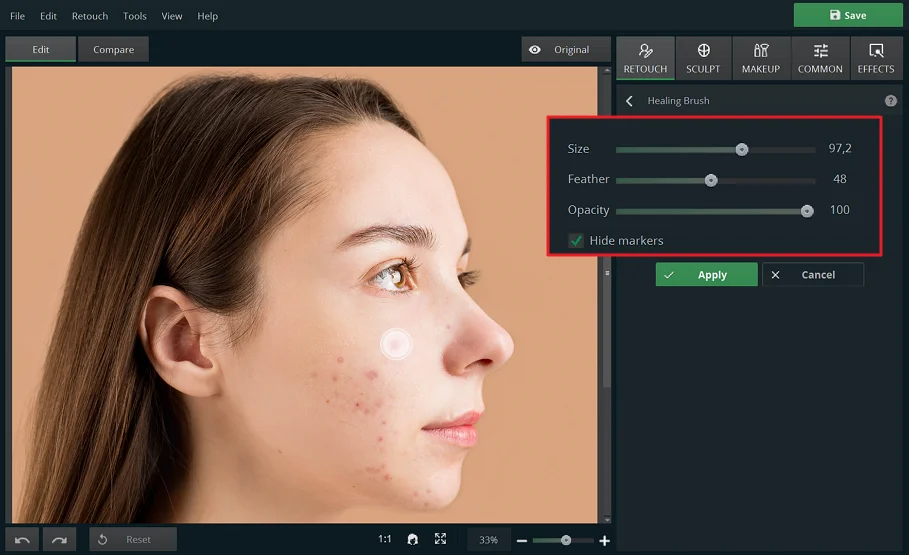 Step 4. Save Your Retouched Photo
Once you're satisfied with the result, apply the changes. Then click the Save button in the top-right corner. Now you can share your photo on social media.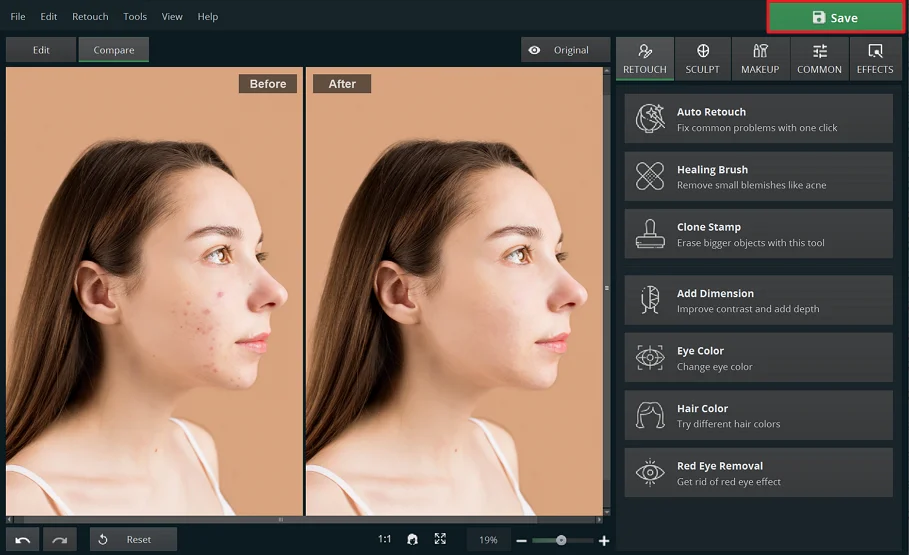 Now you can easily remove acne from photos with the help of PhotoDiva. So next time pimples appear unexpectedly, you'll know what to do! However, if you don't want to limit yourself to only masking acne, PhotoDiva has a lot more to offer. You can use the software as a teeth whitening photo editor and make your smile look beautiful. Need to remove dark circles? With PhotoDiva it's not a problem! Was too late to notice that your lipstick has worn out and don't have a chance for a reshoot? That's not a problem anymore! Using PhotoDiva, you can add lipstick to your photo in under a minute.
Many people are anxious about their looks in photos, especially after pregnancy, stressful periods, and on vacations. Thankfully, PhotoDiva can help you look your best in all your images. It will make you slimmer and taller, enhance your curves with the built-in big boob maker, and even give you a painless facelift. Finally, if a passerby has photo bombed your picture, PhotoDiva will also save the day. With its help, you can easily remove someone from a picture in a couple of minutes.
Alternative Ways to Remove Pimples from a Photo
Feel that PhotoDiva isn't your perfect fit for some reason? We'll show you 4 other ways to get rid of acne. Prefer taking selfies and editing them right away? Consider Blemish Remover for iPhone and iPad. With this handy photo pimple remover, you can get the job done in a click. But this is pretty much all this app can offer, and you'll need to purchase a subscription to save your edited high-quality photos without watermarks. If you're an Android user, try YouCam Editor to retouch the model's face and apply photo effects. But you have to pay if you want to access its exclusive features and get unlimited object removal.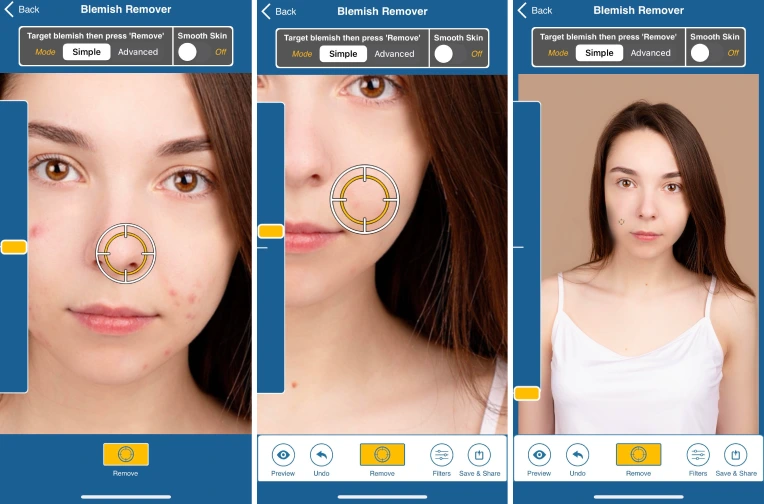 Need free software similar to Photoshop for your Mac? The layer-based GIMP is what you have been searching for since it has many advanced features for photography and design. The program is capable of red-eye elimination, skin tone smoothening, and pimple removal. Want to know how to get rid of acne in photos with GIMP? Follow a detailed guide to learn more about the process. However, the major drawback of the program is that it has a complicated Photoshop-inspired interface, and you have to perform most of the editing manually. This might challenge users with no experience in similar programs or post-production altogether.
Don't want to download any photo editor for acne removal on your smartphone or computer? Then employ the online Pizap for the task. It's an easy-to-use pimple removal tool that allows you to retouch your portraits with the help of in-app features. Here you can touch up your photos, apply photo effects, and embellish your images. But most of the features, including the software tools for editing acne, are not free and require a subscription.
Final Words
Now you know how to remove pimples from a photo in 5 proven ways, which you can use to process your own images. If you're looking for AI-powered editing software to enhance your selfies on your PC, then PhotoDiva is the right option for you. With its help, you can get rid of acne in your portraits, sculpt your figure and facial features, and apply 100+ one-click effects. You won't need to switch between editors to refresh your photos as PhotoDiva has all the tools for complete portrait retouch under one roof. So why not get a free PhotoDiva now?